Trinity- First Day School is open Monday through Friday for children ages 9 mo. – Kindergarten. Academic year and summer camp is available in a dual language setting. Children have the opportunity to learn and thrive in an atmosphere of Christian love. We are dedicated to helping the whole child's development; mind, body, and soul.
Registration applications are now available for the 2020-21 school year. Call now to request a tour, check for classroom availability, and/or be placed on the waiting list 915-533-2674 ext. 23.
CALENDAR***WE FOLLOW ALL EPISD HOLIDAYS***
DOCUMENTS FOR ENROLLMENT
The following must be provided by the first day of admission.
NAEYC ACCREDITED SINCE 2006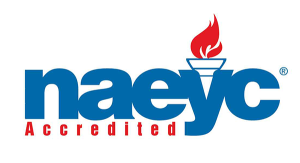 NAEYC-The National Association for the Education of Young Children (NAEYC) is the nation's largest organization of early childhood professionals. NAEYC accreditation indicates a commitment to national standards of teaching and childcare quality.
Questions concerning early childhood development, appropriate education, sleep schedules, classroom transitions, potty training, etc.? You can find it all from a credible source, visit families.naeyc.org.